Spa Wiring
Dunman Electric offers professional electrician services for spa wiring in the Austin, Round Rock, Georgetown, and San Marcos areas, Some of the most dangerous wiring jobs involves work around water, and that's why it's recommended that you make use of our electricians for your spa wiring project. We can repair or replace defective underwater lighting, wiring which hasn't been maintained over the years, pumps, vacuums, and much more.
Regardless of whether you want to renovate your existing pool or spa or want to install brand new water features, we can assist you. We are able to provide your home with: fiber optic lighting, above ground wiring, underground wiring, spa control panels, circuit installation, single pump wiring, multi-pump wiring, and much more!
We cannot stress enough how important it is to let the professionals take care of your spa wiring work. We realize that a lot of homeowners like to take care of DIY jobs around the house on their own. However, when you are dealing with water and electricity, it is best to call in the experts who know the ins and outs of spa wiring, spa lighting, and all other wiring work around water features.
Average rating for Dunman Electric is 5 stars of 5 stars – based on 72 reviews
Electric Repair in Austin, TX
Dunman Electric responded quickly when I called. The quality of work from their electricians and professionalism was A+. We were very satisfied with the work that was performed and grateful to see …
Dunman Electric provides spa wiring services in Austin, Pflugerville, Round Rock, Dripping Springs, Cedar Park, Georgetown, Lakeway, San Marcos, Leander, and surrounding areas in central Texas. Contact us today to set up an appointment. 512-523-5007
Spa Lighting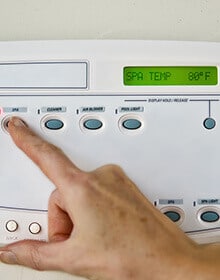 Should you already own a pool or spa and it's needing a brand new wiring system or maybe just new spa lighting, our electricians can deal with both. They are able to add lighting or outlets around your pool and tub area and also add waterfalls which will greatly improve your experience. Also, take into account that the only safe lighting option for pools or hot tubs is fiber optic lighting.
Spa Control Panels
Our electricians can set up spa control panels for individuals who want total control over their hot tub. With your spa control panel, you'll have the ability to control lighting, pumps, heating, and much more! These control panels are very simple to use and will not take much time to set up.
Please contact Dunman Electric for more information about our spa wiring services in Austin, TX! In addition to taking care of your spa wiring, we can also help to beautify your landscaping with deck and patio lighting and other lighting additions which will enhance your property's features.
Regulated by the Texas Department of Licensing and Regulation. PO Box 12157 Austin, TX 78711