Pool Wiring
Relaxing in your hot tub or pool is among the best parts of summer, but whenever you are having issues with your hot tub or pool wiring, you are unable to enjoy them! This is why the experts at Dunman Electric offer professional pool wiring services to the Austin, Round Rock, Georgetown, and San Marcos ares. Be sure you don't need to suffer in the heat by repairing your pool pump, hot tub wiring, or spa wire problems before they develop into big problems!
With regards to keeping your hot tub, spa, and pool in good working shape, you need to leave it to professionals. Particularly when you're having wiring problems, you need to call the professionals. The possibly lethal mixture of electricity and water simply isn't worth it. The good thing is that your local residential electrician has the skills and knowledge to take care of your pool or hot tub related wiring problems to get you back in the water ASAP.
Dunman Electric provides pool wiring services in Austin, Pflugerville, Round Rock, Dripping Springs, Cedar Park, Georgetown, Lakeway, San Marcos, Leander, and surrounding areas in central Texas. Contact us today to set up an appointment. 512-523-5007
Average rating for Dunman Electric is 5 stars of 5 stars – based on 72 reviews
Electric Repair in Austin, TX
Dunman Electric responded quickly when I called. The quality of work from their electricians and professionalism was A+. We were very satisfied with the work that was performed and grateful to see …
Pool Electrician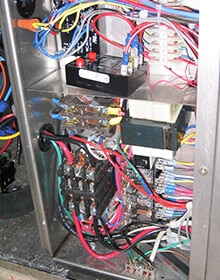 An experienced pool electrician can effectively troubleshoot your hot tub or pool wiring problems to adequately diagnose the problem. And, in contrast to amateur repairs, the professionals won't cause harm to your hot tub or void the manufacturer's warranty. On top of that, they've got the experience and training to safely fix your pool or hot tub without electrocuting themselves! When you've got hot tub wiring needs, let your electrician get your hot tub or spa in great working order very quickly.
In fact, having an electrician install your hot tub or pool wiring to begin with is an excellent way to aid the prevention of future problems. Of course, regardless of the expert installation, malfunctions can and do come about. But if you have a professional set up your hot tub, you steer clear of DIY blunders like an incorrectly installed disconnect switch.
Also, our pool wiring experts can install a pool control panel for you to be able to control all aspects of your pool. You can control the heater, pump speeds, lighting, and much more!
Pool Lighting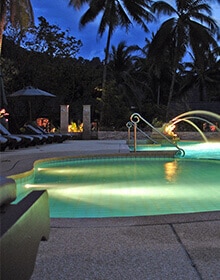 Our pool lighting experts can install fiber optic lighting around your pool. The great thing about fiber optic pool lighting is that you never have to worry about electric shock. There isn't any electrical wiring near the pool itself, only light. You have the ability to change the colors of your pool lighting with the use of a remote control!
Hot Tub Wiring
Our pool professionals also offer hot tub wiring in the Austin area. We can be sure you have the necessary permits to have a hot tub installed on your property. When you do, we will be sure that your hot tub is installed quickly and without much mess or disruption to your daily life.
From pool lighting wiring to hot tub installation, a professional electrician has the skills and hands-on knowledge to deal with your pool wiring problems! Choosing a licensed, insured electrician is the greatest way to make sure you're getting a skilled professional for your hot tub repair or installation. So if you're experiencing electrical problems with your pool or spa this summer, contact Dunman Electric to get them resolved.
Regulated by the Texas Department of Licensing and Regulation. PO Box 12157 Austin, TX 78711