Professional Electrical Installation
Surge Protection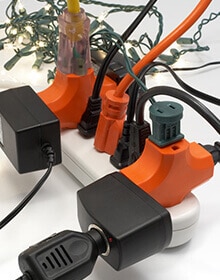 Surge protection is one thing a lot of people frequently forget about. Dunman Electric can help by installing surge protectors for customers in Austin, Round Rock, Georgetown, San Marcos and the surrounding areas. You spend a lot of money on a variety of appliances and electronic devices. Among the best ways to protect your investments in gadgets is to have a residential electrician set up surge protection in your home.
Power Surge
A power surge occurs when something triggers a sudden spike in voltage. This increases the electrical current moving through your house. Power surges can harm electrical equipment and reduce their lifespan. Equipment including televisions, computers and DVD and blu-ray players are particularly susceptible to spikes in the electrical current. The surges in power can harm the circuits, chips and microprocessors. They may even wipe the memory from your computer.
Individuals frequently experience power surges with lightning. However, there are various reasons for power surges apart from lightning. One of the most common reasons for power surges is using electrical appliances which use a lot of energy. A few of these appliances include the microwave, clothes dryer and automatic dish washing machine. They need power to be switched off and on. These spikes inside the electrical current might not be obvious. However, these spikes can harm electrical equipment over time.
Dunman Electric provides expert surge protection installation services to Austin, Pflugerville, Round Rock, Dripping Springs, Cedar Park, Georgetown, Lakeway, San Marcos, Leander, and surrounding areas in central Texas. Contact us today to set up an appointment. 512-523-5007
Yet another cause for power surges is wiring. Technology has increased the demand for various kinds of electronics. A lot of homes are not equipped to handle the increase in appliances and electronics and the energy they require. Flickering lights, blown fuses and tripped circuits are often signs that you will need to have a residential electrician come and rewire your house.
Other reasons for power surges include issues with your utility's equipment, such as power lines or generators, and also electrical outages.
Average rating for Dunman Electric is 5 stars of 5 stars – based on 72 reviews
Electric Repair in Austin, TX
Dunman Electric responded quickly when I called. The quality of work from their electricians and professionalism was A+. We were very satisfied with the work that was performed and grateful to see …
Residential Electrician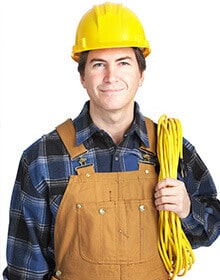 Having a residential electrician set up surge protection is a superb way to decrease the damage surges may cause. Not all surge protection is identical. There are various kinds of surge protection available at various prices. However, just because a product is inexpensive, does not necessarily mean it will provide the kind of protection you will need. A residential electrician knows what products are a good match for your budget.
A residential electrician can set up surge protection for the entire house. A qualified electrician can come, examine your house and figure out which kind of surge protection is right for your house.
With the number of options available to protect your home appliances and electronic devices, you should make the most of them. Setting up surge protection in your house will reduce unnecessary damage and increase the lifespan of your electrical devices.
Feel free to contact Dunman Electric today for more information about surge protection for your location in Austin, TX.
Regulated by the Texas Department of Licensing and Regulation. PO Box 12157 Austin, TX 78711