Professional Electric Repair
Wiring Repair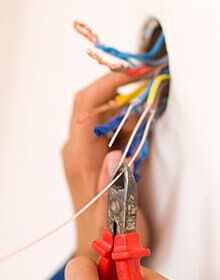 Dunman Electric provides customers with electrical wiring repair services in the Austin, Round Rock, Georgetown, and San Marcos areas. If you find that you are in need of wiring repair, don't waste time with do-it-yourself electrical work or unskilled electricians which could leave you with electrical and fire hazards in your house. At Dunman Electric, our main priority is guaranteeing the safety of you and your home. We're familiar with all facets of home electrical systems and will provide you with outstanding electric repair service regardless of the job, from replacing wiring to doing comprehensive wiring repairs. We simply do the very best, most dependable electrical work to provide you with peace of mind. That's the reason why all of our Raleigh home electrical repairs and installs are 100% guaranteed.
Electrical Repairs & Replacements
When you need electrical repairs or replacements, you will need Dunman Electric! Our knowledgeable electricians will provide fast, reliable services for your next home electrical project. Here are a couple ways we can help:
Replacing/Repairing Existing Electrical Wiring
Switches
GFCI Installation
Dunman Electric provides expert electrical wiring repair services to
Austin
,
Pflugerville
,
Round Rock
,
Dripping Springs
,
Cedar Park
,
Georgetown
,
Lakeway
,
San Marcos
,
Leander
, and surrounding areas in central Texas.
Contact us
today to set up an appointment.
512-523-5007
Average rating for Dunman Electric is 5 stars of 5 stars – based on 72 reviews
Electric Repair in Austin, TX
Dunman Electric responded quickly when I called. The quality of work from their electricians and professionalism was A+. We were very satisfied with the work that was performed and grateful to see …
Certified Electricians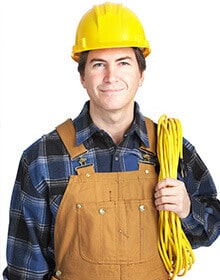 Our certified electricians have been taking care of wiring repair and replacement services for many years now in the area, and we are looking forward to working with you next. We make your home and family's safety our main goal. When your home has electrical problems, it's important to get them taken care of as soon as possible. The longer you put off having your electrical wiring issues taken care of, the more likely it is that a disaster will occur. Electrical wiring problems can cause fires and could result in your entire home being engulfed in flames. Avoid this entirely by having our professional, certified electricians come out to your property to evaluate the problem and provide effective repairs so you can rest easy at night.
Please contact Dunman Electric today for more information about our electrical wiring repair or replacement services in Austin, TX. We look forward to helping you in the near future!
Regulated by the Texas Department of Licensing and Regulation. PO Box 12157 Austin, TX 78711