Phone/TV/Cable Wiring Installation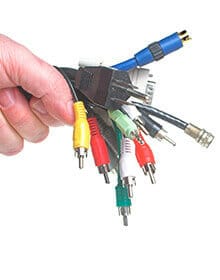 Dunman Electric offers phone wiring installations, TV wiring installations, and cable wiring installations in the greater Austin area. Our crew of knowledgeable residential electricians will be able to hook your systems up quickly and for an affordable cost.
Cable TV Wiring Installation
Cable companies often take care of the cable TV wiring installation process from an above-ground or underground service point to an interface box connected to the outside of your house. However, from that point on to the TVs within your home, we can take care of hooking up the rest of the necessary gear. To get this done, we will use: coaxial cable, cable jacks, connectors, wall boxes, cable splitters and also the appropriate tools. We will most likely utilize a RG-6 coaxial cable, which is wider in diameter than the old RG-59 cable and has internal shielding that can help protect against signal interference.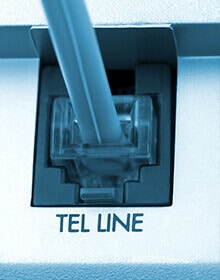 Dunman Electric provides phone, tv, and cable wiring installation services in Austin, Pflugerville, Round Rock, Dripping Springs, Cedar Park, Georgetown, Lakeway, San Marcos, Leander, and surrounding areas in central Texas. Contact us today to set up an appointment. 512-523-5007
Network Installation
Fiber optic cable can take data transmitting to a completely new level and we can help you with network installation services. What was previously carried out electrically over copper wiring can now be carried out optically by means of small tubes of sheathed glass — the fiber optics which transport information-packed infrared light waves to computer systems, TVs and phones. Setting up fiber optic cable in your home network calls for a few basic components, such as Ethernet, a six-way faceplate with Ethernet, phone MT-RJ fiber and coaxial jacks, along with a choice among nearly 100 different connectors. Homeowners frequently make use of the "multi-mode" cable variety, which is designed for signal transmission over reduced distances. You need to verify first whether fiber optic service is available in your community. Verizon is one company providing fiber optic service.
Phone Cable Installation
Cabling components for telephone systems include the same ones utilized in setting up cable TV, and Dunman Electric can help you with phone cable installation. The only real difference is with the application. The cable company will link your home phone to a network interface device (NID), which then links to the company's broadband network by way of coaxial cable and then eventually interfaces with the public switched telephone network (PSTN). You can make use of any kind of phone you previously attached to a standard phone line, since the NID has a traditional phone jack. Cable installation, then, is set up the same as for cable TV, apart from connecting to a phone instead of a TV.
With respect to the application, a range of components specific to the service should be thought about. In the case of cable TV installation, a digital set-top box needs to be bought if you do not own a TV which has a digital tuner. You can get this at almost any electronics outlet or buy it from your cable provider. Outdoor cable used in the house would be overkill and unworthy of the cost.
Please contact us for more information about phone, TV, and cable hookups!
Average rating for Dunman Electric is 5 stars of 5 stars – based on 72 reviews
Electric Repair in Austin, TX
Dunman Electric responded quickly when I called. The quality of work from their electricians and professionalism was A+. We were very satisfied with the work that was performed and grateful to see …
Regulated by the Texas Department of Licensing and Regulation. PO Box 12157 Austin, TX 78711