Professional Electric Repair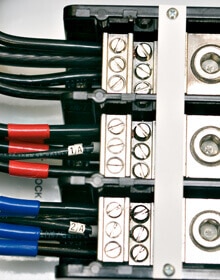 Whenever you need electrical wiring replacement, turn to Dunman Electric for dependable and professional electricians you can count on. It is recommended that homeowners think about replacement wiring every 20 years as a precautionary measure for maintaining the safety of their home and the well-being of its inhabitants. We provide wiring replacement to customers in the Austin, Round Rock, Georgetown, and San Marcos areas.
The condition of your house's cables and wiring deteriorates with time. If this wiring is used continually, which it most likely is, after 20 years it will definitely be time for replacement. Naturally, our licensed electrical technicians can easily replace the electrical wiring at your home. Our electricians can also determine whether the wiring just needs a simple repair and isn't ready to be replaced yet.
Dunman Electric provides expert wiring replacement services to Austin, Pflugerville, Round Rock, Dripping Springs, Cedar Park, Georgetown, Lakeway, San Marcos, Leander, and surrounding areas in central Texas. Contact us today to set up an appointment. 512-523-5007
Electric wiring repair or replacement may be required for reasons other than old age. When electrical problems come about, electrical wiring may need to be replaced immediately. To better recognize electrical problems, you need to know first what a consumer unit is and the switches which go along with it. Generally, the consumer unit is in charge of electrical distribution in the panels installed in your house. The panels are put together and encased. The mini circuit breakers, or MCBs, are used to protect home appliances from electrical overheating of the cables. When MCBs are turned off or tripped off, the electric supply to the affected circuit is cut off. This generally comes about as the result of a short circuit or overload. If the problem brings about too much damage, electrical wiring replacement might be required.
Our certified electricians know that replacing electrical wiring is a serious and risky task. Electrical wiring jobs should only be completed by a trained professional.
Average rating for Dunman Electric is 5 stars of 5 stars – based on 72 reviews
Electric Repair in Austin, TX
Dunman Electric responded quickly when I called. The quality of work from their electricians and professionalism was A+. We were very satisfied with the work that was performed and grateful to see …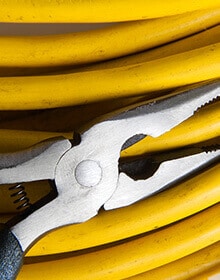 Documented problems with aluminum wiring have been associated with the overheating and failure of aluminum wiring terminations. This is because of the inclination of aluminum wiring to oxidize, and aluminum's incompatibility with devices created for use with copper wiring only. Aluminum has an increased rate of expansion when compared with copper wiring, which may lead to unfastened connections, arcing and melting, ultimately fire. Warm cover plates or staining of switches or receptacles, flickering lighting or the odor of hot plastic insulation might be proof of poor or improperly made connections. If you feel that your aluminum wiring is in need or repair or replacement, get in touch with the licensed electricians at Dunman Electric today.
Please contact Dunman Electric today to learn more about replacement electrical wiring for your property in the Austin, TX area.
Regulated by the Texas Department of Licensing and Regulation. PO Box 12157 Austin, TX 78711