Professional Electrical Installation
Washer and Dryer Hookups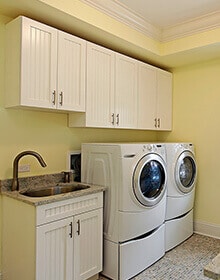 Dunman Electric provides professional washer and dryer installation and hookup services to homeowners in Austin, Round Rock, Georgetown, and San Marcos. Nearly every home has a place for a washer and dryer hookup. However, if you don't buy a washer and dryer at a shop that provides installation, or if you bought your washer and dryer from an individual, you have to figure out how to set up the washer and dryer. It's important to have a professional electrician take care of your washer/dryer installation for you since it will involve electricity. The new installation may even require a wiring replacement or new outlet installation.
Washer and Dryer Installation
To start the washer and dryer installation process, we will shut off all circuits prior to starting.
We'll very carefully examine your wash area to determine what types of connections can be found. Usually there are electrical or gas hookups. Electric is the most popular. We'll be sure to hook up a 4-foot dryer vent to the outside and also a 220v outlet. Also, we will be sure the amperage available fits the dryer that you are wanting to use; 30, 40, and 50 amp are the most popular. However, a 30 won't fit into a 50, and so forth. The circuit number will be noted on the electric service panel, as well as on the inside or back of your dryer. Additionally, we'll be sure there's adequate room for your washer and dryer to fit.
Dunman Electric provides expert washer and dryer hookup installation services to Austin, Pflugerville, Round Rock, Dripping Springs, Cedar Park, Georgetown, Lakeway, San Marcos, Leander, and surrounding areas in central Texas. Contact us today to set up an appointment. 512-523-5007
Average rating for Dunman Electric is 5 stars of 5 stars – based on 72 reviews
Electric Repair in Austin, TX
Dunman Electric responded quickly when I called. The quality of work from their electricians and professionalism was A+. We were very satisfied with the work that was performed and grateful to see …
Next, our licensed electricians will line the dryer up the same way as the washing machine, and leave ample room to work behind it. We will cut about a 4-foot piece of dryer vent and fasten with a vent clamp to the back of the dryer. Next, we will connect the other end to the vent leading outside the house, and hold it in position with a vent clamp.
Then, we will connect the 220v plug into the outlet. We will not attempt to plug the dryer in if it is not a 220v plug or if the home doesn't use a 220v outlet. This can be very dangerous. We will push the dryer back near to the wall.
Finally, we will level the washing machine and dryer by utilizing the channel lock pliers, and unscrew or screw the little metal feet at each corner of the dryer and washer until the entire unit stands level on the floor surface.
Contact Dunman Electric for more information about washer/dryer hookups in Austin, TX.
Regulated by the Texas Department of Licensing and Regulation. PO Box 12157 Austin, TX 78711