Electrical Circuits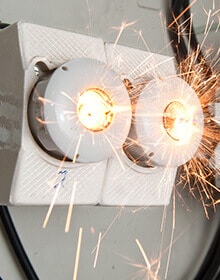 Dunman Electric offers electrical circuit repairs and service to homeowners in the Austin, Round Rock, Georgetown, and San Marcos areas. Even the handiest people often need assistance from an electrical contractor, and this is especially true with electrical circuits in your home. While it's relatively simple to replace a fuse, there are usually problems that have to be taken care of by a professional. Apart from the fact that a professional electrician can easily repair simple electrical problems, there might be disguised problems that an electrician might uncover. Electrical issues which go hidden could possibly be really dangerous, as a large number of fires which are started in houses have to do with electrical issues.
Blown Circuits
One of the most common problems people seem to have is with blown circuits. More often than not, this is the consequence of too much power being drawn through a circuit, but it might be a number of other issues also. If the circuits are getting blown in the kitchen area, and you've got the coffee pot, microwave, toaster oven, blender and other items plugged in, disconnect the ones not being used at the particular moment. It will help reduce the chances of having a blown circuit since they're capable of handling the little amount of power coming through to run one or two smaller gadgets.
Dunman Electric provides residential electrical circuit repairs and service to homeowners in Austin, Pflugerville, Round Rock, Dripping Springs, Cedar Park, Georgetown, Lakeway, San Marcos, Leander, and surrounding areas in central Texas. Contact us today to set up an appointment. 512-523-5007
Dedicated Circuits
There is also the possibility that you'll need a dedicated circuit in your house. Bigger appliances such as fridges, stoves and washers and dryers pull much more electrical power than the smaller appliances like the coffee pot. For this reason, those bigger home appliances generally require their own electrical circuit, known as a "dedicated" circuit. An electrical contractor can create a dedicated circuit to run your bigger home appliances and prevent more circuits from getting blown because of an overload. He will also inform you of safety issues regarding bigger appliances and the electricity they utilize.
Electrical Services
Dunman Electric provides electrical services for the following: electrical re-wiring and set ups, appliance circuits, wire repair, whole home surge protectors, and much more!
If your appliances randomly stop working or your lights begin flickering, chances are likely that you are having problems with your electrical circuits. Please contact Dunman Electric for more information about our electrical circuit services. We look forward to hearing from you soon!
Average rating for Dunman Electric is 5 stars of 5 stars – based on 72 reviews
Electric Repair in Austin, TX
Dunman Electric responded quickly when I called. The quality of work from their electricians and professionalism was A+. We were very satisfied with the work that was performed and grateful to see …
Regulated by the Texas Department of Licensing and Regulation. PO Box 12157 Austin, TX 78711