Professional Electric Repair
Electric Repair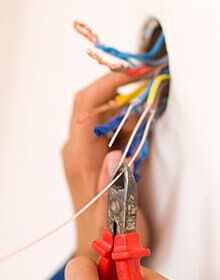 Dunman Electric offers professional electric repair services to residents in Austin, Round Rock, Georgetown, San Marcos and nearby areas provided by a trusted, local Austin electrician. Electrical problems may start in one home appliance or outlet and move through the entire home, leaving you in need of our help. The issue could be a minor one or one which involves the primary lines connecting your house to the electric grid outdoors. There is one thing that continues to be the same, no matter what is happening, you will need a licensed, skilled electrician to handle these issues for you. Anybody else, including yourself, could put your house at risk for fire if you try to take care of the problem by yourself.
Certified Electrician
Even though some electrical repairs might seem simple in nature, all repairs relating to electrical power should really be dealt with by a certified electrician. Electrical problems have bigger risk factors and require more attention than a lot of straightforward DIY home projects. For instance, the wiring or re-wiring of an outlet, a breaker box, or even the whole home is something to leave to the experts. It is a lot more cost-effective to let a professional take care of the process. This is particularly true whenever you need substantial upgrades to be in code with your local building department.
Dunman Electric provides expert electrical repair services to
Austin
,
Pflugerville
,
Round Rock
,
Dripping Springs
,
Cedar Park
,
Georgetown
,
Lakeway
,
San Marcos
,
Leander
, and surrounding areas in central Texas.
Contact us
today to set up an appointment.
512-523-5007
Panels and switches might or might not be simple to repair. Ultimately, the concern is not only with the replacement of a breaker but with making sure the system has the correct amount of electrical current running through it. You need to be certain that the installation of a new panel will be done correctly or every other component in your home running on electricity might be damaged. Electrical cabling work is exactly the same. The job is extensive and calls for a lot of detail-work. Don't try to do the work by yourself!
Electrical Repair Company
Even though the majority of electric work is best left to our electrical repair company, you can do a few things that can be quite helpful. For instance, be sure that your outlets are working and if they're not, get them repaired. It's a wise decision to inspect all wires and cords, as well. Look for any damage or rips. Go into your attic and basement and search for damage to wires which could come from animals. This is usually one reason why your electric flow could be lacking. It's also smart to keep all of your home appliances in good overall working order because this may help to lessen the risk of electrical problems in the future.
Electrical repairs aren't something to postpone. A little problem with just one wire can result in a fire. Moreover, the longer the issue exists, the more risk there is for a large-scale problem to take place. Take action sooner rather than later.
Please contact Dunman Electric today for more information about electrical repair services for your property in Austin.
Average rating for Dunman Electric is 5 stars of 5 stars – based on 72 reviews
Electric Repair in Austin, TX
Dunman Electric responded quickly when I called. The quality of work from their electricians and professionalism was A+. We were very satisfied with the work that was performed and grateful to see …
Regulated by the Texas Department of Licensing and Regulation. PO Box 12157 Austin, TX 78711