Professional Electrical Installation
Light Fixture Wiring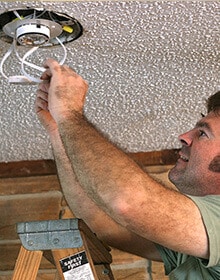 Dunman Electric provides professional light fixture wiring service to customers in the Austin, Round Rock, Georgetown, and San Marcos area. Light fixture wiring is one thing which is better left to skilled electricians to take care of at your home. While installing or swapping out light fixtures in your house is something that a lot of homeowners feel they can do by themselves, it is crucial that you speak to a professional because working with electricity is very dangerous. If there are any problems, you may end up requiring some type of electrical repairs which could be prevented. Since all it takes is one little mistake to be subjected to dangerously high amounts of electricity, it goes without saying that it's much better to be "safe than sorry".
Adding or Replacing a Light Fixture
Just like any other time that you're dealing with electricity and adding or replacing a light fixture, our very first concern is safety. The very first thing we will do when putting in a light fixture is turn off the power at the electrical panel. Although it might be easier to just turn it off at the switch, we will be certain to use the breaker panel to be sure we don't unintentionally flip the switch back on in the course of our installation. By switching off the power at the breaker level, we can be totally certain that no electricity will be streaming to your electric outlet. Just to make sure, we'll test the power in the spot to double check.
Dunman Electric provides expert light fixture wiring services to Austin, Pflugerville, Round Rock, Dripping Springs, Cedar Park, Georgetown, Lakeway, San Marcos, Leander, and surrounding areas in central Texas. Contact us today to set up an appointment. 512-523-5007
Licensed Electricians
Our licensed electricians will start by getting rid of your old light fixture, and cleaning diligently around it. If needed, we'll use sand paper to make sure that your new light fixture installs smoothly and evenly. Then, we'll connect all of the wires of your new fixture, just like they were connected with the old fixture. It is crucial that this is completed safely, correctly, and in compliance with the installation instructions which were included with your light fixture. Crossed or incorrectly connected wires may cause short circuits, fires, along with other hazards. After all of your wiring has been hooked up, we can set up the housing of your light fixture. The housing provides your light its visual appearance, as well as an additional level of safety against exposed wires.
Making little modifications to light fixtures along with other aspects of your home can change the atmosphere, and enhance the value of your property. Although some of these projects are fairly simple, there's always an element of danger involved when dealing with electricity. For the greatest results, and the assurance of a safe set up, always have new lights and electrical outlets set up by a professional electrician.
Contact Dunman Electric today for more information about light fixture wiring!
Average rating for Dunman Electric is 5 stars of 5 stars – based on 72 reviews
Electric Repair in Austin, TX
Dunman Electric responded quickly when I called. The quality of work from their electricians and professionalism was A+. We were very satisfied with the work that was performed and grateful to see …
Regulated by the Texas Department of Licensing and Regulation. PO Box 12157 Austin, TX 78711