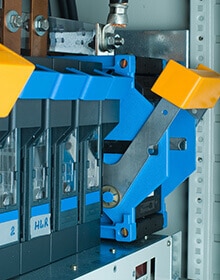 unman Electric provides professional commercial fuse panel installation and repair services to business owners in the Austin, Round Rock, Georgetown, San Marcos areas. A commercial fuse panel is the equivalent of the circuit breaker's electrical service panel because it houses and regulates the incoming electrical service and distribution to branch circuits inside the building. It offers overcurrent protection with the use of fuses.
The fuse box is going to have threaded sockets into which the fuses will be attached. These big threaded sockets look like light bulb sockets and are known as Edison sockets. It's very important to keep your commercial fuse box in good working order. If a repair or replacement is needed, it's a good idea to get in touch with our electricians as soon as possible.
Dunman Electric provides commercial fuse panel installation and repairs to Austin, Pflugerville, Round Rock, Dripping Springs, Cedar Park, Georgetown, Lakeway, San Marcos, Leander, and surrounding areas in central Texas. Contact us today to set up an appointment. 512-523-5007
Fuse Box Repairs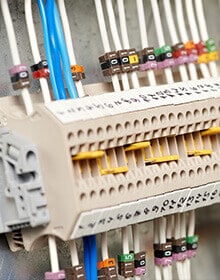 If you're needing fuse box repairs in Austin, or a commercial fuse box replacement, Dunman Electric is here to help you.
Your commercial fuse box is a crucial part of your business, and repairing or replacing a fuse box/fuse board is very complex work. This is something which is best left to our professional electricians to take care of. We know that a lot of property owners like to take care of DIY jobs on their own. However, fuse box repair is NOT a DIY job! If you don't have the proper skills or required training to do these repairs, it could result in a very time-consuming, frustrating, and even dangerous undertaking.
If you require a fuse box repair in Austin or a fuse board upgrade, let our trained and knowledgeable electricians assist you. We have been working on commercial and residential locations in the greater Austin region for many years now and have taken care of a lot of fuse boxes. We feel that there is not any fuse box repair job that is too big or small for our electricians to handle.
Fuse Board Repair
We can carry out fuse board repair and even provide replacements if needed. At Dunman Electric, we are proud to say that we only install the highest quality fuse board replacements which are specially-designed to be extremely energy-efficient. We guarantee all of our fuse box repair and replacement work, and we also offer residential electrical repair services if needed.
All of our dedicated, trained electricians keep themselves current with the latest health and safety practices in the industry as well as any changes to the National Electrical Code. By doing so, we can guarantee that your commercial location will be up to code.
Contact Dunman Electric today to schedule a time for an appointment to get your fuse box evaluated.
Average rating for Dunman Electric is 5 stars of 5 stars – based on 72 reviews
Electric Repair in Austin, TX
Dunman Electric responded quickly when I called. The quality of work from their electricians and professionalism was A+. We were very satisfied with the work that was performed and grateful to see …
Regulated by the Texas Department of Licensing and Regulation. PO Box 12157 Austin, TX 78711