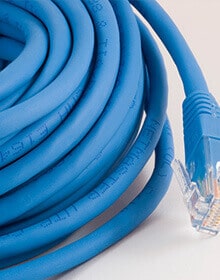 Dunman Electric offers commercial business owners expert Cat 5 ethernet wiring services for your property in the Austin, Round Rock, Georgetown, or San Marcos areas. Category 5, or Cat 5, is the most recognized and used ethernet cable today. It is easily recognized as having a jack on the ends which looks like a phone jack, only slightly bigger. It is the industry standard and we can provide you with installation or replacement of this cable for your entire business.
We provide Cat 5 cabling services for: structured cabling for new builds, structured cabling for already existing offices, removal of old cabling, Cat 5 cable maintenance and replacement, and much more!
Ethernet Cable Wiring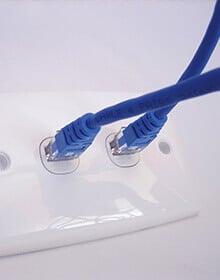 Ethernet cable wiring is twisted inside, and the twisted pairs insulated, since this type of internal configuration puts a stop to interference and signal leakage between the different strands. Every wire in a cable is one of 4 distinct colors: orange, brown, blue, and green, each twinned having a mate which is a stripy version of that cable. The different wires are insulated from one another in order, as stated before, to prevent signal leakage, and that's why when cutting out and measuring your own cable wiring it's important to make sure that only the last half-inch of each cable is sliced. This inhibits the different strands mixing and causing interference.
Dunman Electric provides Cat 5 ethernet wiring to businesses in Austin, Pflugerville, Round Rock, Dripping Springs, Cedar Park, Georgetown, Lakeway, San Marcos, Leander, and surrounding areas in central Texas. Contact us today to set up an appointment. 512-523-5007
Cat 5 Cabling
Cat 5 cabling is something which is best left to the professionals to take care of. Since Cat-5 wiring was released in order to improve speed and performance over computer networks, the utilization of this cable is suggested for anybody who wants to access and use the Internet with all its information. A standard Cat-3 standard, like a dial-up connection, won't transport any more than 10 MB of data per second. In comparison, Ethernet cable wiring can transport up to 10 times more data per second. For that reason, this standard is required for anybody wanting to use such services as Internet and video telephony, or to enjoy and access audio and video streams. The Cat-5 standard was the main standard, but even it has been progressively phased out by a newly developed standard that costs the same. This is the Cat-5e standard, which transports the same data as a Cat-5 cable but is useful to business networks because of small technical changes that make it a better transporter of data.
Please contact Dunman Electric today to learn more about our Cat 5 wiring services. We look forward to working with you soon!
Average rating for Dunman Electric is 5 stars of 5 stars – based on 72 reviews
Electric Repair in Austin, TX
Dunman Electric responded quickly when I called. The quality of work from their electricians and professionalism was A+. We were very satisfied with the work that was performed and grateful to see …
Regulated by the Texas Department of Licensing and Regulation. PO Box 12157 Austin, TX 78711