Recess Can Lighting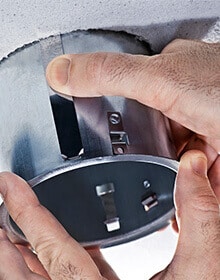 Whether you and your family are designing a new home or renovating your existing home, recess can lighting can be a critical element in both the function and style of your home.
Dunman Electric can help you with designing a lighting scheme for your entire home in the Austin, Round Rock, Georgetown, and San Marcos areas. We can also take care of the installation work for you at a low, affordable price.
Recess Can Light Installation
Before you begin any kind of recess can light installation, spend some time to get to know the basics about these kinds of lights.
How can you tell what size is right? The standard light sizes are 3″, 4″, 5″ and 6″. The rule is the lower the ceiling the smaller the recessed can. A typical installation would be using a 4″ can light to highlight a piece of art work. For ceilings 8 ft and over, a 5″ or 6″ can lights will look fantastic. Recess lights of this size are generally used to light up the room. However, they can be used for accent lighting, as well.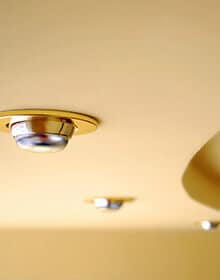 Also, recess can lighting comes in different voltages. Typical incandescent can lights operate at 120v and utilize 120v light bulbs. Incandescent cans are the oldest and most reliable as well as the least expensive. Incandescent or 120v bulbs are also cheaper than most low voltage bulbs.
The other type of recess can is low voltage. Low voltage lights hook up to to 120V but then make use of a transformer or ballast to lower the voltage to 12V. Low voltage recess can use less power than incandescent bulbs, but can be a little bit more costly to replace.
Dunman Electric provides recess can lighting installation services in Austin, Pflugerville, Round Rock, Dripping Springs, Cedar Park, Georgetown, Lakeway, San Marcos, Leander, and surrounding areas in central Texas. Contact us today to set up an appointment. 512-523-5007
Recess Can Light Trim
A recess can light trim is the ring and reflector which covers the inside area of the light. The trim is usually one piece and it installs into the can housing before the lamp. The trim's function is to reflect or aim light out of the can while covering the metal housing of the unit.
Trims are available in a variety of styles that are made for a particular use. Be sure to ask our electricians which trims are available for your recess lighting!
Recessed Lighting
Recessed lighting provides a flush, streamlined look for any area of your home. Recessed lighting can amplify the amount of ambient light, emphasize your beautiful artwork, wallpaper, or shelving and will be able to make spaces look and feel much bigger than they actually are. Recessed lighting by Dunman Electric is a great way to add depth to any room of your home.
Benefits of Recessed Lighting
Our electricians will work with you to correctly space your recessed lighting fixtures so that they provide ample lighting for the area of your choice. We will help you to determine which size will work best for this area. Additionally, we can center your recessed lighting fixtures on objects you would like to light up – for example, a painting, a bookshelf, mantle, sculptures, or anything else! The options are only limited by your imagination.
Contact Dunman Electric today to learn more about recess can lighting for your home in the Austin area.
Average rating for Dunman Electric is 5 stars of 5 stars – based on 72 reviews
Electric Repair in Austin, TX
Dunman Electric responded quickly when I called. The quality of work from their electricians and professionalism was A+. We were very satisfied with the work that was performed and grateful to see …
Regulated by the Texas Department of Licensing and Regulation. PO Box 12157 Austin, TX 78711