Professional Electrical Installation
Home Theater Wiring
To many consumers, home theater wiring may be a mind boggling concept. Dunman Electric offers professional home theater wiring services to homeowners in the Austin, Round Rock, Georgetown, and San Marcos areas. Sadly for some, it may also be budget draining if you pick an electrician who charges a hefty price for installation. So it comes as no real shock that the typical consumer would try to look for ways to save any money they are able to, primarily by trying home theater wiring on their own. However, this isn't a great idea because electricity is involved. You may also require some wiring replacement to be performed or even wiring relocation.
New construction houses are noticing a lot more than just having electrical wiring ran. Surround sound wiring as well as pre-wiring for a HDTV above the fireplace are popular now. It is a great addition to your house during building or renovation for instant or future use and generally provides resell value to the property. Who wouldn't want the experience of theater quality sound in their house? Our electricians can install new construction home theater wiring, and we can also install wiring in an already built home.
Our home theater installers know the devices inside and out. Every one of our electricians keep themselves current on what's new in the audio/video community so we can correctly recommend the right gear for your family. We know the capabilities and constraints of your system. We also are aware of the appropriate settings for your speakers so your surround sound receiver has to do less work and you can get superior results. We are aware of the best settings for your HDTV for the kind of room it's in. To put it bluntly, our home theater installers know all about home theater installation!
Dunman Electric provides expert home theater installation services to Austin, Pflugerville, Round Rock, Dripping Springs, Cedar Park, Georgetown, Lakeway, San Marcos, Leander, and surrounding areas in central Texas. Contact us today to set up an appointment. 512-523-5007
Average rating for Dunman Electric is 5 stars of 5 stars – based on 72 reviews
Electric Repair in Austin, TX
Dunman Electric responded quickly when I called. The quality of work from their electricians and professionalism was A+. We were very satisfied with the work that was performed and grateful to see …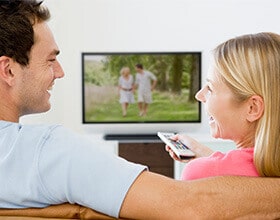 Our home theater set up services include:
Design Consultation
TV Mounting
System Installation & Setup
Surround Sound Setup
Wiring and Cabling
Audio and Video Equipment Setup
Remote Control Programming
Contact Dunman Electric for more information about home theater wiring in Austin, TX.
Regulated by the Texas Department of Licensing and Regulation. PO Box 12157 Austin, TX 78711