Professional Electrical Installation
Ceiling Fan Wiring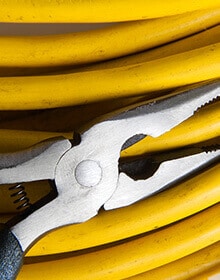 Dunman Electric offers homeowners professional ceiling fan wiring and installation services in the Austin, Round Rock, Georgetown, and San Marcos areas. With regards to ceiling fan wiring and installation, a homeowner will require the technical knowledge and skills of an electrician. If there is any kind of installation involving electrical power, there's a risk to people who are unskilled or inexperienced.
Even though homeowners can handle numerous do-it-yourself projects, ceiling fan installation is a more complex task. The process calls for knowledge of electrical wiring as well as knowledge of how to correctly mount and secure a heavy object. These are reasons why a certified and licensed electrician must do this kind of installation. You may require wiring relocation or even potentially wiring replacement.
Ceiling Fan Installation
The first step a ceiling fan installation electrician will take to putting in a ceiling fan is deciding on the best kind of electrical box. Good performance is dependent upon appropriate installation. Proper installation begins with installation of the electrical box which houses all the wiring required to run a ceiling fan. The electrician will figure out if the current electrical box is sufficient for the wiring or requires replacement to support a brand new fan.
Appropriately wiring all the components is the next step in ceiling fan installation. There are numerous home-based accidents involving people getting hurt during appliance installation since they're not really acquainted with wiring. Electricity is dangerous and really should be handled with constant respect. An electrician is aware of the power of electricity and has a lot of experience dealing with it in a safe and proper manner.
Dunman Electric provides expert ceiling fan wiring and installation services to Austin, Pflugerville, Round Rock, Dripping Springs, Cedar Park, Georgetown, Lakeway, San Marcos, Leander, and surrounding areas in central Texas. Contact us today to set up an appointment. 512-523-5007
Average rating for Dunman Electric is 5 stars of 5 stars – based on 72 reviews
Electric Repair in Austin, TX
Dunman Electric responded quickly when I called. The quality of work from their electricians and professionalism was A+. We were very satisfied with the work that was performed and grateful to see …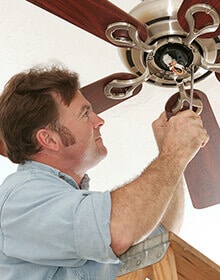 A lot of homeowners do not know how much weight a ceiling can bear. An electrician can help explain to a homeowner how big a fan should be to keep the ceiling from having too much weight. Also, the electrician is aware of the special kind of ceiling fan bracket which must be used to keep the ceiling fan in position.
When homeowners do attempt to install ceiling fans on their own, the fans are often improperly installed and become wobbly. If a fan is wobbly, then a homeowner must call an electrician right away. Since an electrician comes across this situation a lot, he understands it is necessary to ensure the fan blades are properly aligned and correctly attached. A seasoned electrician can check blade alignment by lightly guiding each blade into its proper position. Electricians also have balancing kits to help correct unbalanced installations.
Because most people are not comfortable dealing with electricity, particularly when it comes to installing new wiring to a power source, as well as slicing and possibly building electrical box mounts, using an electrician is a great choice.
Attic Fan Services
Frequently overlooked, but very important with regards to cooling efficiency, is the attic fan. The attic fan is crucial to maintaining a comfortable temperature in home while also saving you money. Attic fans are a fantastic option if your house is not conducive to installing central air because of to the way it was constructed or the high cost connected to it.
If your Austin area home is in need of attic fan installation, repair or maintenance, please contact Dunman Electric today to learn more about our fan wiring services.
Regulated by the Texas Department of Licensing and Regulation. PO Box 12157 Austin, TX 78711