Security Lighting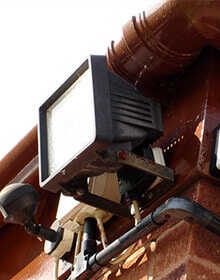 A lot of people go to great lengths to keep their property safe, and using security lighting at your home is one way of doing so. Dunman Electric offers homeowners professional security lighting installation services in the Austin, Round Rock, Georgetown, and San Marcos areas. They generally begin with installing deadbolt locks, and locking devices for their home windows. They may even have a professionally installed and monitored home alarm system. These are outstanding devices and the well-protected home will most likely have these kinds of home safety measures, as well as others. One of the most practical (and frequently overlooked) ways of keeping your property safe is with home security lights.
Home Security Lights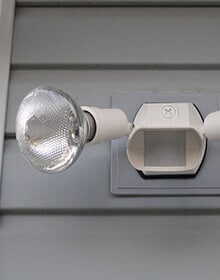 Home security lights can take a variety of forms. Some people decide to keep their houses safe by making use of a "dusk to dawn" technique. This simply means that they have a number of lighting around their house which is on all the time. This type of home security lighting technique functions by discouraging burglars from getting close to the home since many homes are broken into when nobody is home. A light which is switched on in the house gives the appearance that the home is active. The weakness of this kind of home security lighting is that the energy costs can become very high, and an always-on approach doesn't supply any alert to neighbors that there is a home invasion.
Dunman Electric provides residential security lighting installation in Austin, Pflugerville, Round Rock, Dripping Springs, Cedar Park, Georgetown, Lakeway, San Marcos, Leander, and surrounding areas in central Texas. Contact us today to set up an appointment. 512-523-5007
Motion Activated Lights
Another way to keep your home safe with home security lighting is by using motion activated lights. These kinds of home security lights work using motion sensors, flipping the light on whenever they detect motion, and turning the light off after a couple of minutes. These lights can notify neighbors, without having those excessive energy costs. In addition, the sudden brightness will frequently surprise a possible intruder, who is then more prone to leave the property.
A final kind of method that individuals have used to keep their house safe with home security lighting mixes both of these techniques. Some types of security lights will remain on at a lower power, perhaps a quarter of their total brightness. Once they detect movement, they increase in intensity, again bringing the spotlight on a possible intruder or burglar. This type of combination home security lighting setup is often referred to as "hi-lo" security lighting. Exterior lighting is also available which will be off completely during the day and functions at low intensity until motion is noticed.
Please contact Dunman Electric for more information about our security lighting in Austin, TX. We provide a large assortment of security lighting systems, including energy-efficient lighting for both indoor and outdoor use.
Average rating for Dunman Electric is 5 stars of 5 stars – based on 72 reviews
Electric Repair in Austin, TX
Dunman Electric responded quickly when I called. The quality of work from their electricians and professionalism was A+. We were very satisfied with the work that was performed and grateful to see …
Regulated by the Texas Department of Licensing and Regulation. PO Box 12157 Austin, TX 78711