Electric Meter Boxes
Electric meter boxes can be used for measuring the amount or volume of electricity used in residential and commercial locations. Dunman Electric provides installation of new electric meter boxes as well as repairs and replacements in the greater Austin, Round Rock, Georgetown, and San Marcos areas.
There are many different kinds of meter boxes that are being used today. Many older models are what is called electrolytic and they use mercury to measure electrical usage and have been outdated for many years. Today most electric meters are digitally controlled by using a variety of circuits and little computer chips. This allows the meter to record not just electricity consumption but additional information as well, like the time and date when the electricity was utilized, and also help to create invoices. Electric meters are really common, and can be seen just about anywhere electricity is used. Nearly all residencies will have a minimum of one electric meter set up, and this can be of numerous different types. For instance, some meters are produced especially for different homes such as an economy rate meter or a, pay as you go type meter.
Pay as you go type of meters refers to electricity bought in advance. This is done by the use of a payment type credit card or payment 'key'.
Average rating for Dunman Electric is 5 stars of 5 stars – based on 72 reviews
Electric Repair in Austin, TX
Dunman Electric responded quickly when I called. The quality of work from their electricians and professionalism was A+. We were very satisfied with the work that was performed and grateful to see …
The card or key is put into a special purpose electronic outlet, and a specific amount is paid for the information uploaded onto the card or key. The card or 'key' is then put into the correct electric meter, which gets the uploaded information. The most common unit of measurement is the kilowatt hour, and the demand is calculated in watts and averaged over a duration of time, often a quarter of an hour.
Dunman Electric provides electric meter box repar and replacement services in Austin, Pflugerville, Round Rock, Dripping Springs, Cedar Park, Georgetown, Lakeway, San Marcos, Leander, and surrounding areas in central Texas . Contact us today to set up an appointment. 512-523-5007
Electric Meter Box Repair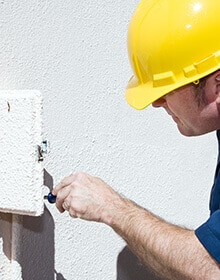 If you need electric meter box repair, Dunman Electric can provide you with professional electrical services. We have a full staff of certified electricians who are ready to assist you with whatever problem your meter box is experiencing.
Don't attempt to take care of meter box repair on your own. If you don't know exactly what you're doing, it can prove to be a time-consuming, frustrating, and expensive process which could even be dangerous. It's good to keep in mind that any kind of repair involving electricity is something that you should leave to a licensed professional from Dunman Electric.
Electric Meter Box Replacement
If your electric meter box is too out-of-date or is beyond repair, we provide electric meter replacement services for folks in your situation. We can have your new meter installed quickly and for an affordable price.
Please contact Dunman Electric for more information about electric meter boxes. We look forward to hearing from you soon!
Regulated by the Texas Department of Licensing and Regulation. PO Box 12157 Austin, TX 78711