Professional Electrical Installation
A/C and Heating Wiring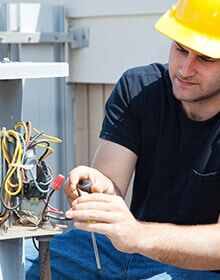 Dunman Electric provides expert air conditioner and heater wiring services to customers in the Austin, Round Rock, Georgetown, and San Marcos areas. All HVAC equipment is specially-designed to be protected with fuses and or circuit breakers which are sized to handle the "amp" draw of a normally functioning piece of equipment, and that's why your A/C and heating wiring is so important. The fuse and wiring size of your HVAC unit is specific to each unit and rarely the same between manufacturers so it is important for a professional to perform the installation. An incorrectly sized wiring job and/or fuses or breakers might lead to equipment failure or even a fire! This could result in you requiring wiring repair or even replacement which is why it's important to leave all HVAC wiring to the experts at Dunman Electric.
A/C and Heating Installation
Whether you are in the process of building a home, or your existing home is in need of A/C and heating installation, our licensed electricians are here to help you. With numerous years of experience working in the industry, we guarantee you will be pleased with their thorough, knowledgeable, and professional nature.
Dunman Electric provides expert A/C and Heating wiring installation services to Austin, Pflugerville, Round Rock, Dripping Springs, Cedar Park, Georgetown, Lakeway, San Marcos, Leander, and surrounding areas in central Texas. Contact us today to set up an appointment. 512-523-5007
We realize that a lot of homeowners think they can take on A/C and heating wiring on their own. This is not a good idea! If you don't have the proper training and tools required to hook up your HVAC systems, there's a good chance a disaster could occur. You may get electrocuted, or a small mistake with the wiring could cause a fire to start.
Avoid these headaches altogether by having your A/C and heating installation taken care of by the experts at Dunman Electric. You'll be glad that you did!
Average rating for Dunman Electric is 5 stars of 5 stars – based on 72 reviews
Electric Repair in Austin, TX
Dunman Electric responded quickly when I called. The quality of work from their electricians and professionalism was A+. We were very satisfied with the work that was performed and grateful to see …
Dunman Electric has the perfect licensed electrician for your A/C and heating wiring job. All of our electricians have been properly trained in the process of hooking up HVAC units. it is our mission to provide homeowners in the Austin area with affordable, reliable wiring installation services that are completed in a safe manner.
We care about you, your family, and your home, and want to provide you with the very best electrical services in the region.
Contact Dunman Electric for more information about A/C and heating wiring in Austin, TX.
Regulated by the Texas Department of Licensing and Regulation. PO Box 12157 Austin, TX 78711