Amp Upgrades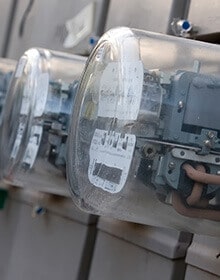 With all of the great deal of electrical equipment found inside the modern home, it's no wonder that amp upgrades have grown to be more common. Dunman Electric offers expert amp upgrade services to the Austin, Round Rock, Georgetown, and San Marcos areas. Dealing with the electrical needs of today's property owner is no small undertaking, also to keep everything running efficiently, new electrical wiring is often essential, particularly in properties constructed a long time ago.
If you are thinking about an electrical upgrade in your house, you will discover some things you ought to be familiar with; an electrical wiring job is not a small task, plus the more you discover about what's out there, the more you'll be able to communicate to your contractor what you anticipate from the project.
Electrical Wiring
A sizable electrical wiring project adds a considerable load to the main electrical service. In about 25 % of all properties, some type of service upgrade is needed before new wiring may be set up. For instance, many householders will be forced to change an older 60-amp electrical service with a new service rated for 100 amps or maybe more. An approved electrician is required to perform a project like this.
Dunman Electric provides amp upgrade services in Austin, Pflugerville, Round Rock, Dripping Springs, Cedar Park, Georgetown, Lakeway, San Marcos, Leander, and surrounding areas in central Texas. Contact us today to set up an appointment. 512-523-5007
Meticulous planning of a wiring job makes sure that you'll have adequate power for present and future needs. Whether you are adding circuits onto an additional room, wiring a reworked kitchen area, or adding an outside circuit, think about all possible ways the spot could be used, and plan for adequate electrical service to satisfy peak needs. Among the most detrimental things you can do as a house owner would be to spring for an electrical upgrade which doesn't upgrade properly. With technology getting bigger and much better, it is necessary in making certain that the electrical wiring isn't merely good enough for the time being, but good enough for anything which may come down the road.
Circuit Breaker Upgrades
Electrical wiring is not a job for the majority of homeowners to handle on their own, but it is a good idea to understand a little bit about what is going to be needed to bring your property up to date when talking with your contractor about circuit breaker upgrades.
Average rating for Dunman Electric is 5 stars of 5 stars – based on 72 reviews
Electric Repair in Austin, TX
Dunman Electric responded quickly when I called. The quality of work from their electricians and professionalism was A+. We were very satisfied with the work that was performed and grateful to see …
A good way to plan a new wiring project would be to look in your main circuit breaker. Although a few homeowners might be afraid of their circuit breaker, most should easily be capable of finding the circuit breaker box, and read the amp rating printed on it. In many instances, a 100-amp service supplies adequate power to handle most loads. A service rated for 60-amps or less may need to be upgraded.
Please contact Dunman Electric to learn more about amp upgrades for your property in Austin, TX.
Regulated by the Texas Department of Licensing and Regulation. PO Box 12157 Austin, TX 78711