New Construction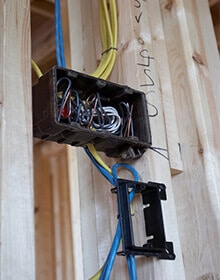 Dunman Electric provides licensed, professional and trained commercial electrician for new construction projects in Austin, Round Rock, Georgetown, San Marcos and nearby areas.. Whether you are building a house, garage, business, or other structure from the ground up, or you need to have a current electrical system serviced with repairs or replacements, there are a number of things that an electrician can help you with. Dunman Electric provides the following pre-construction services for construction projects:
Conceptual Estimating
Value Engineering
Feasibility Studies
Engineering Reviews
Pre-Construction Analysis
Construction Reviews
Dunman Electric provides expert commercial electrician services for new constructions projects in Austin, Pflugerville, Round Rock, Dripping Springs, Cedar Park, Georgetown, Lakeway, San Marcos, Leander, and surrounding areas in central Texas. Contact us today to set up an appointment. 512-523-5007
Commercial Electrician
Ideally, whether you need a commercial electrician for servicing an existing system, re-wiring a house, garage or outer structure, or you need one to install an entire new electrical system, wiring, panels, meter and all, our electricians have experience working with both.
Our trained and knowledgeable electricians realize that there are certain requirements when it comes to planning, designing, and budgeting for a new construction project. We provide a wide variety of new construction wiring services. We want to provide you and your construction team with professional electrical wiring expertise, highly-skilled electricians, and deadlines you can depend on.
Electrical Wiring
We can take on electrical wiring projects of every size. Please contact Dunman Electric today for more information about new construction wiring. We look forward to working with you soon!
Average rating for Dunman Electric is 5 stars of 5 stars – based on 72 reviews
Electric Repair in Austin, TX
Dunman Electric responded quickly when I called. The quality of work from their electricians and professionalism was A+. We were very satisfied with the work that was performed and grateful to see …
Regulated by the Texas Department of Licensing and Regulation. PO Box 12157 Austin, TX 78711