Professional Electric Repair
Electric Repair

Dunman Electric provides professional outlet repair services to customers in the Austin, Round Rock, Georgetown, and San Marcos areas. Properly working electrical outlets are crucial to supplying electricity to the numerous home appliances and electrical devices that we make use of every single day, but when these outlets stop working, you need to have immediate outlet repair. Regardless if you are powering your fridge, drying your hair or enjoying music, it is vital that your outlets be in good working condition all of the time. Not only will damaged or otherwise compromised outlets fail to give you power when it's needed, they can also be dangerous. Damaged electrical outlets can result in electrical shocks, fire or even death. Because of this, you need to have a local electrician from Dunman Electric repair any wires and replace any electrical outlets as soon as you think there is some sort of issue.
GFCI Outlets
To be able to improve safety in wet places, it is now required for bathrooms, kitchens, garages outdoors and other wet areas to utilize GFCI outlets. These outlets include a special set of sensors which can diagnose small differences in your electrical current. Because of this, they will shut down the flow of power as soon as any problems are discovered. This includes everything from a short to a power surge. If, for instance, you're blow-drying your hair and your dryer makes contact with water, the GFCI will instantly turn off the flow of power. If you did not have this kind of outlet, then the result might be deadly electrical shock.
Dunman Electric provides expert outlet repair services to Austin, Pflugerville, Round Rock, Dripping Springs, Cedar Park, Georgetown, Lakeway, San Marcos, Leander, and surrounding areas in central addressRegion. Contact us today to set up an appointment. 512-523-5007
GFCI outlets must be checked once a month. This is really simple to do. All you need to do is push the test button. If the reset button pops out, then everything is working alright. If the reset button doesn't come out, or if the outlet often trips itself off, call an electrician to come out and see whether or not you should replace the outlet.
Average rating for Dunman Electric is 5 stars of 5 stars – based on 72 reviews
Electric Repair in Austin, TX
Dunman Electric responded quickly when I called. The quality of work from their electricians and professionalism was A+. We were very satisfied with the work that was performed and grateful to see …
Standard Electrical Outlets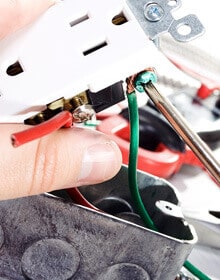 Since they're not designed with as many standard protection features, issues with standard electrical outlets are not as easily noticed. In most situations, you will see that there's a problem whenever you have problems powering devices from a particular outlet. It's also wise to make contact with an electrician if an outlet sparks, or has burn markings. Even when there's nothing wrong with the outlet, you're much better safe than sorry. Generally, you will only have to replace your standard outlets if they get out-of-date. You may also want to change them if you decide to move an outlet from one spot to another. Be sure to always have this carried out by a professional electrician to make sure that things are done properly and in accordance with local building codes.
With regards to your electrical system, having safe and reliable power is the key to preserving your safety and the life of your electronics. Inconsistent or dangerous outlets (like an ungrounded electrical outlet) can significantly shorten the life of your devices and appliances. If you are living in an older house, or think that you could have some problems with your current outlets, don't hesitate to call an electrician.
Please contact Dunman Electric today to learn more about our electrical outlet repair services for individuals living in the Austin area.
Regulated by the Texas Department of Licensing and Regulation. PO Box 12157 Austin, TX 78711