Electrical Wiring
Dunman Electric provides expert circuit breaker installation, replacement, and repairs to the Austin, Round Rock, Georgetown, and San Marcos areas. Generally, circuit breakers will not have to be swapped out. As opposed to a fuse, a circuit breaker was created to reset. Sometimes, a circuit breaker might break or crash resulting in the need to replace it with a brand new breaker. The majority of homes have a main circuit breaker and different branch circuit breakers which connect to various areas in your home. If your circuit breaker requires replacing, our certified electricians will be sure to follow the steps listed below regarding how to replace a circuit breaker.
To be able to replace a typical home circuit breaker which is located in a regular 2-pole main breaker with branch circuit compartments, we'll first shut off all of the branch circuit breakers and also the main circuit breaker. We will never assume the breakers are shut off; we will check out voltage on nearby breakers to be sure the breaker panel is inactive.
Dunman Electric provides circuit breaker replacement services in Austin, Pflugerville, Round Rock, Dripping Springs, Cedar Park, Georgetown, Lakeway, San Marcos, Leander, and surrounding areas in central Texas. Contact us today to set up an appointment. 512-523-5007
Average rating for Dunman Electric is 5 stars of 5 stars – based on 72 reviews
Electric Repair in Austin, TX
Dunman Electric responded quickly when I called. The quality of work from their electricians and professionalism was A+. We were very satisfied with the work that was performed and grateful to see …
Next, we'll remove the panel cover. This will give us access to branch circuit breakers but not the main breaker area. Just as a side not, the typical homeowner should never attempt to remove the cover to the main breaker on their own; this should only be viewed by a certified electrician. We are able to replace the circuit breaker by just detaching the panel cover.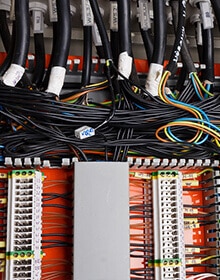 Once we have taken off the cover then we will be able to remove the wire from the defective breaker and pull it out of the way. Now, we will cautiously pry the defective circuit breaker out of its place. We'll pay attention to how the breaker fits in the panel and locks into place so that we can put the brand new circuit breaker in the right way. Upside down and sideways placements usually fail to work. Next, we will put in the brand new circuit breaker.
When we have the circuit panel opened, we will be certain to look into the other branch circuits to make certain they're appropriately in place and tighten up any kind of unfastened pieces. We will then put the panel cover back on and make certain all the branch circuit switches are in the "off" position. Next, we will proceed to switch on the main circuit breaker and then turn on each individual branch breaker one at a time. We will test the circuits to be sure they are in working order and that they stay set.
If the replacement circuit is functioning properly, then we are done. In the event you still have a circuit issue then we might want to look at the electrical devices linked to the circuit.
Circuit Breaker Installation
Circuit breaker installation should be completed by a certified electrician specializing in electrical procedures. If you need circuit breaker installation in Austin, contact Dunman Electric as soon as possible! We have been taking care of circuit breaker installations for many years now and are ready to help you.
Circuit Breaker Repair
If you need circuit breaker repair, Dunman Electric can provide you with the services of licensed electricians who have been trained in the most effective ways to go about fixing damaged circuit breakers.
Contact us today!
Regulated by the Texas Department of Licensing and Regulation. PO Box 12157 Austin, TX 78711