Room Additions
Whenever space in your house unexpectedly gets to be an issue, think about transforming a basement or attic into functional space. Dunman Electric offers rewiring solutions for room additions in the Austin, Round Rock, Georgetown, and San Marcos areas. Chances are that as your family and needs grow over time, you'll likely need an extra bathroom, bedroom, family room, or study. There are general outlets and lighting required throughout these kinds of rooms, but there are also various other additions to think about. Smoke detectors, ceiling fans, bathroom vent fans, air-conditioner receptacles, electrical heaters, phone jacks, pc jacks, and tv jacks are all common additions to these kinds of spots.
Speaking of computers, it's a wise decision to add an isolated-ground circuit particularly for your computer. It protects this delicate equipment and the addition of a surge protector will guarantee that power surges will not damage them. Don't overlook the potential for adding a subpanel to make distributing the circuits in the new area more conveniently accessible.
Dunman Electric provides room addition electrical wiring services in Austin, Pflugerville, Round Rock, Dripping Springs, Cedar Park, Georgetown, Lakeway, San Marcos, Leander, and surrounding areas in central Texas. Contact us today to set up an appointment. 512-523-5007
Average rating for Dunman Electric is 5 stars of 5 stars – based on 72 reviews
Electric Repair in Austin, TX
Dunman Electric responded quickly when I called. The quality of work from their electricians and professionalism was A+. We were very satisfied with the work that was performed and grateful to see …
Heating and Cooling – Thermostats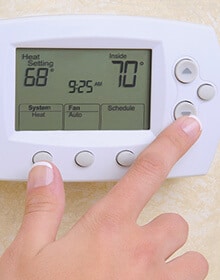 Then there's the addition of a thermostat for heating and cooling control. In some instances, you might have separate heating and cooling to an independent section of your house. There is also the potential of baseboard heating that will need a thermostat to turn the units on/off.
Closet Lighting
Closet lighting is something else you should think of. Remember to think about placement of shelving and necessary clearances for light fixtures in this spot.
Smoke Detectors
Smoke detectors and carbon monoxide sensors will help protect you and your loved ones. Hardwire smoke detector systems link all of the smoke detectors together throughout the home. If one triggers an alarm, they all sound to alert you in all parts of the home so that you can escape in time. In the event that you fall asleep in an upstairs bedroom with the door shut and a fire starts, you might not hear an alarm in the basement of the house. This way, you'll be informed no matter where you might be.
Stairs – Three-Way Switches
Don't overlook adding three-way switches on opposite ends of the stairs. This way the stair lights could be switched on from upstairs or down. And speaking of switches, switched outlets add a great accessory for turning on a room's desk lamp.
Ceiling Fans
Ceiling fans provide comfort to a room, so don't cheapen out when wiring this area of your house.
Remember, receptacles should be put no farther than 12 feet apart. The rule of thumb is that home appliances come with 6 foot cords. This means you will get from one outlet 6 feet and then plug into the next for the other 6 feet. Clearly, this is the maximum distance allowed by the code.
Please contact Dunman Electric today for more information about room additions and electrical services in the Austin, TX area.
Regulated by the Texas Department of Licensing and Regulation. PO Box 12157 Austin, TX 78711