Commercial Parking Lot Lighting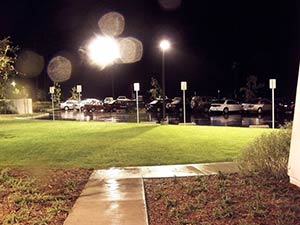 Lighting in parking areas must meet IES recommended levels, and still the lights should also minimize light pollution and intrusion on neighboring properties. In Austin this can be a bit of a challenge where often a residential home or apartment structure may be directly adjacent to a commercial parking lot or garage. At Dunman Electric we have the know how and commercial electrical experience to design and install just the right type of lights for each unique situation.
The main areas to consider when looking to add lights to a parking lot are:
Safety – who is parking on the lot and how late into the evening will people be coming and going
Neighbors – Is the lot near a residential building where careful consideration must be given to how the light impacts others
Cost and Maintenance – Is the lot in an area known for crime? The type of lighting fixtures vary greatly in cost and energy consumption so this is a factor we must discuss.
Operation – Do the lights need to be on all days from dusk to dawn or based on a different set of criteria? Controlling your utility costs is something you want to do as part of the planning process prior to any installation of lighting.
Green Energy Options – Do you want to be environmentally friendly in your decision?
Planning is really what it takes to setup the right type of lighting in any commercial parking application. Give us a call at Dunman Electric and we'll be happy to setup a time for one of our certified and licensed electricians to come out and survey your provide, answer any questions and then prepare you a detailed summary and bid for proposed work you may wish to have done.
Average rating for Dunman Electric is 5 stars of 5 stars – based on 72 reviews
Electric Repair in Austin, TX
Dunman Electric responded quickly when I called. The quality of work from their electricians and professionalism was A+. We were very satisfied with the work that was performed and grateful to see …
Regulated by the Texas Department of Licensing and Regulation. PO Box 12157 Austin, TX 78711