Residential Electrician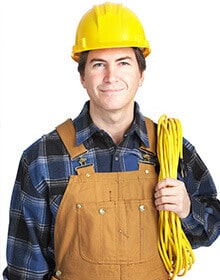 Dunman Electric provides professional residential electrician services to homeowners in the Austin, Round Rock, Georgetown, and San Marcos areas. Residential electricians are skilled professionals working with any kind of electrical work that a house has. The vast nature of the degree of electrical work inside a modern house is also why mostly all electricians are licensed and were appropriately trained at the trade. The work usually goes in phases, and begins with the simple rough wiring of the entire home, and will ultimately end as a finished product with lights, outlets, and anything else you see which is powered.
Electrical Wiring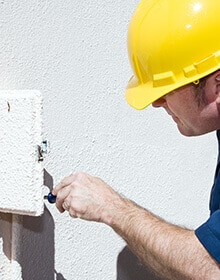 Electrical wiring in your house is just about the most important part of residential work completed by an electrician. This is what feeds power to everything, and is generally forgotten because the wiring is located behind your wall surfaces. To power these types of wires, you
generally will need a main electric line which goes into your home with a meter in which your local power company regulates. After a house is totally wired, residential electricians generally will then wait for the home to be nearly finished on the inside so that they can set up receptacles, switches, along with other fixtures.
Dunman Electric provides residential electrician services to homeowners in Austin, Pflugerville, Round Rock, Dripping Springs, Cedar Park, Georgetown, Lakeway, San Marcos, Leander, and surrounding areas in central Texas. Contact us today to set up an appointment. 512-523-5007
Electricians also handle running power to the devices in your home. Other specialized items including hot tubs, home security systems, alarm systems, gates, outside lighting, along with other custom touches many modern homes these days have. Electricians are always changing their trade since they need to keep up with the present day trends of electrical work. A lot of new things are being introduced into the market every single day and it is their job to have the knowledge to install it and help make it work.
Electrical Repair and Installation
Since electrical repair and installation can be complex, and has a lot of safety precautions, this is generally why you should only use an experienced company with licensed electricians. It's not worth the risk of using an inexperienced person to do electrical work for you since electrical failure may cause fires, and can leave your house unlivable. If your power goes out, this means that you no longer have all of the modern conveniences of today. To put it simply, leave electrical work to genuine residential electricians.
If you're in need of any kind of upgrade or repair work, this is one more reason not to hesitate to call an expert from Dunman Electric. Even when you don't need emergency electrical repair work, it is still vital that you schedule the work to be completed as soon as possible so further complications will not rise later in the future.
Service Panel Upgrades and Changeouts
Preventive Maintenance and Repairs
Wiring Inspections
AC/Heating Wiring
Remodeling
Phone/TV Cable Installation
Plasma Screen/Home Theater Installation
Landscape Lighting
Computer/Power Networking
Fan Installation
New Construction
Whole House Surge Protection
Recess Can Lighting
Security Lighting
Spa Hookups
GFCIs
Aluminum Wire Repair
Federal Pacific Panel Changeouts
Pool Equipment Power
Please do not hesitate to contact Dunman Electric today for more information about our residential electricians, or if you would like to schedule an appointment! We look forward to talking with you soon.
Average rating for Dunman Electric is 5 stars of 5 stars – based on 72 reviews
Electric Repair in Austin, TX
Dunman Electric responded quickly when I called. The quality of work from their electricians and professionalism was A+. We were very satisfied with the work that was performed and grateful to see …
Regulated by the Texas Department of Licensing and Regulation. PO Box 12157 Austin, TX 78711